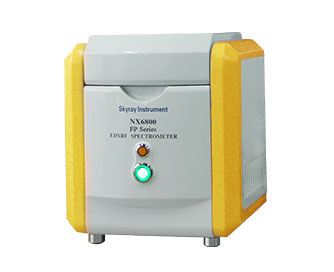 Product description, Technical parameters and configuration
The NX6800 FP Series new generation XRF spectrometer made by Skyray Instrument is designed to meet the requirements for the measurement of gold, silver, platinum and elements inside precious metals.This model is wildly used in jewelry shop and factory to test their gold samples and ornaments all over the world.Using gas filled high resolution proportional counting box detector with ethernet connection for stable and reliable data acquisition, NX6800 can analyze Au, Ag, Cu, Zn, Ni, Pt, Pd etc. Test results fully meet the requirements of the jewelry industry and available for both standard precious metal set or customer created reference calibration sample set.

Its features are:
Small and Elegant;
Measuring samples of different sizes;
The diameter of the collimator is as small as 1.0mm, making it possible to measure the micro area;
Bottom lightening structure
Large window proportional counter, meeting the requirements of different applications;
Large sample chamber for measuring large samples;
Laser positioning of CCD permitting visualized positioning of samples;
Good radiation shielding capability protects the operators.

Application fields:
Mainly used for testing precious metals.

Core Technologies:
Large power X-ray tube
Super Large window proportional counter
Small collimator enables the test of micro area
Laser positioning CCD positions the test spot visually and accurately.
The laser automatically stops when the measurement starts, which helps taking clearer pictures.